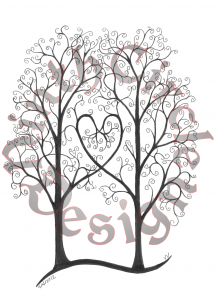 EDIT 2015/05/07: I periodically get inquiries about using this image in various ways (weddings, logos, etc.).  I am not currently licensing this image; please do not use it for commercial or personal purposes.  Thank you for respecting my art and ownership.
EDIT 2017/05/09: I have just completed a clean, vector version of this image that I am licensing (including for weddings, a popular request I get). View it here. Rates vary by usage, email me (gimmetrees at ninthcircle.net works) for details.
I adore trees.  I know, it's not a surprise at all, but I do want to make that really clear.
With that on the record, I have an admission to make.
I do from time to time consider the ways in which I can make my beloved trees … marketable.
So, in one of those cold-blooded, "somewhere someone will find this adorable and buy it on everything" moments, I came up with the idea of drawing two trees next to each other, with crossing branches forming a heart.
I started the drawing and it was, indeed, adorkable.  I sent a phone pic of it to my partner, who told me to stop there or it would be too much.
I didn't listen and kept adding, putting in the little swirls that I love about my older tree doodles.  I am now wondering … is it too much?