The artist makes a break for the small time
About a year ago or so, I started realizing that my trees were … a bit simplistic. Just floating around in space, and backgrounds might just be a thing I needed.  So, quietly, I started trying out some physical media beyond just sketchbooks for sketching trees.
Then, this spring, I discovered the Residents Association was doing an art and wine show at the library for a fundraiser, and decided to show my work.  Originally, it was just to show, no sales, but then they did get a permit for onsite sales and suddenly I needed to get a business license and set up in the sales tax system for the state.  This was the moment I'd been putting off for years and here it was.
Step one, put your work out there
I spent some time scrambling to get prints of my work from RedBubble and Zazzle, while also scrambling to make originals and do the hardest part – pricing.
Side note: seeing the difference in quality of prints, I can only recommend RedBubble if you want prints of my work.  Maybe it's just the kind of thing I was getting printed, but the Zazzle prints were fuzzy and I didn't even put them out.
At the show itself, I got to walk around some and look at everyone else's work and that was briefly terrifying, but I set up anyway and thus the show was a success!
I mean, that was the definition of success for this: get business license and set up for sales tax, show up to show with art and put it out there.
I did end up selling three pieces and that was extra bonus!
Here's a photo of my setup: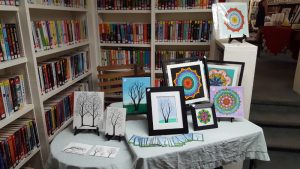 tl;dr I now have originals for sale
If you see something in that photo that you like, contact me for prices.
Note: the small framed mandala has already sold.
p.s. I am now on Patreon
For folks who want to support me and my art but don't need more stuff, you can now patronify me at: http://www.patreon.com/ninthcircledesign